Introducing Stria- Makers Cabinet's Folding Ruler
Stria is the third product from drawing and writing tool experts, Makers Cabinet. Stria exemplifies Makers Cabinet's ethos: to listen and respond to our community's wishes.  That is why we have designed, at your request, a folding ruler of the highest calibre. 
Stria is elegant, durable, and enjoyable. Its versatile mechanism makes it perfect for sketching or drawing either at home, in the studio, or on the go. Stria builds from the ruler's time-honoured seamless straight lines. It measures from edge to edge in metric and imperial. Stria has the added functionality of offering haptic feedback at essential angles. Like all Makers Cabinet creations, Stria is designed to last a lifetime.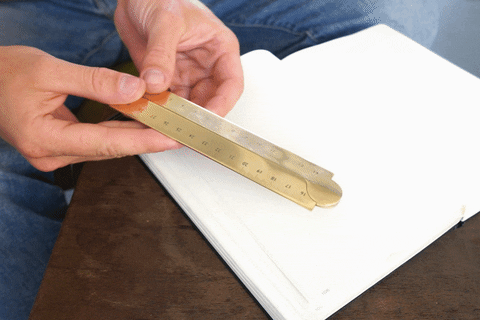 Over the past few months, we have been working hard to materialise our vision. We are very proud of the result and are confident in our capacity to produce Stria with the highest care and quality. 
Stria will be CNC machined and hand-finished in collaboration with our longstanding manufacturing partners. It will be packaged in a recyclable and durable cardboard box. 
Stria will be available for pre-order on August 11th on Kickstarter!  Please join us in bringing your newest creation to life by following the link below. 
7 comments
Puzzled – as an American I can confirm that by "English" Joseph means "Imperial" units. American's stopped using "Imperial" long ago, after we triggered the end of the Empire in 1776. :)
Makers Cabinet team: another beautiful and useful tool. Thanks and keep up the good work!
Solver
September 09, 2020
Joseph's comment make no sense. He requests measurements to be in English not just metric but English is either a nationality or a language not a unit of measurement.
Puzzled
September 08, 2020
Is the ruler calibrated in metric, English and/or both?
As an American, I hope it is available in English
Is the ruler calibrated in metric, English and/or both?
As an American, I hope it is available in English
Just ordered Iris – looks wonderful. For Stria, you will be missing an opportunity if you do not include markings for a sector – the space is available and you are already making the physical mechanism. Check out Jim Toplin's site for more information: https://www.byhandandeye.com/product/580/. You might find a lot of woodworkers interested if you do.
Hey Tanya,
Stria will be available in both solid brass and solid steel.
Thanks,
Noah
Makers Cabinet
Hello,
It is just beautiful.
Is is solid brass or brass coloured?
Tanya
Leave a comment